Our two Photoshop books are not meant to teach the whole program. They are taught from a photographers perspective. Each book puts together a series of lessons that will not only teach how the program works, but give you techniques to use everyday. With Photoshop it's about building up your bag of tricks. Once you start getting the lessons down, each book creates a workflow or sequence to work on your images.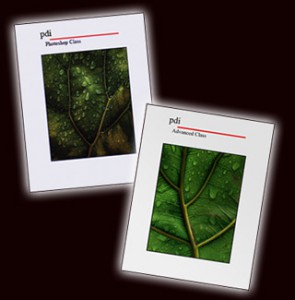 Pro Digital Image: Photoshop is a fantastic book for the new user and anyone who wants to learn Photoshop in a clear and user-friendly manner.
Pro Digital Image: Raw File Techniques explores the correct way to work with Raw files of every kind. If you are working in Raw, you need this book.
The books come with a set of images that are used in the lessons. Just open the image used in the lesson, practice the lesson a few times and then try it on one of your own images. With Photoshop it's all about remembering the techniques learned. My students have commented how they can easily refer back to the book when they get stuck. If that's not enough, each book comes with e-mail support.