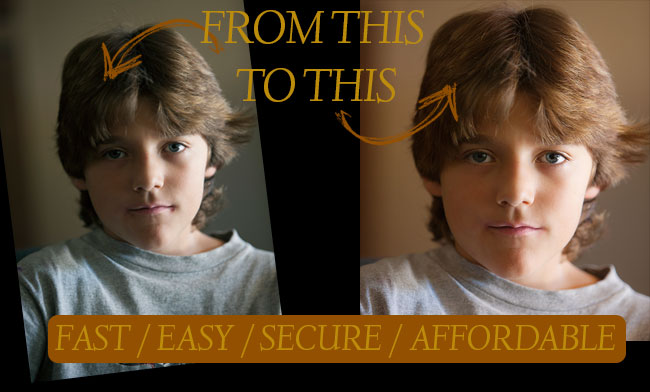 We know how busy a lot of photographers are, and how important some of their images can be to them. We also know how long it can take to tweak that image to "show-ready" goodness when you are not as proficient in Photoshop as you may need to be. Our professional Post Processing gives you a file that will print perfectly – whether inkjet or lithographic process.
(BTW – we have classes for learning Photoshop… heh.)
We have decided to offer this Turnkey Solution to you at an affordable price… and it gives you two ways of getting your image print ready.
What We Do
We process from your RAW (or clean JPEG) file using smart objects and then we use a combination of layer adjustments, non-destructive burning and dodging, and finely adjusted sharpening to give your image the pop and excitement it deserves. All work is done in Photoshop and if you choose Option B, your layered files will be complete.
What Kinds Of Images Do We Work On?
Almost any kind of image, but we do not do inappropriate imagery of any kind. If you have to ask yourself if it is appropriate, it may not be.
We prefer to work with RAW files, but a non-processed JPEG original will work if that is what you have.
Landscapes, environment, portrait, still life, architecture, travel, food and product photography are all welcome. If you have a question about whether your work would be something we would work on, please send Steve and email with a small JPEG attached.
What Kind of Images We Do NOT Work on
This is NOT a service for advanced manipulation, collage or photo-illustration techniques like compositing.
We are not blending photographs or using HDR techniques. This is straight up processing of a single image for the best print available.
We do not clone out telephone poles or Auntie Martha, and we do not do advanced facial portrait retouching.
Batch Files or Larger Number of Files
We can offer services on a custom basis as well. If you have more than two images that you wish to have Steve work on, please contact him at steve@prodigitalimage.com for a custom quote. However keep in mind that this is a post-processing straight image offer, and we are not doing collage, composite or HDR manipulations, nor is this a custom Photoshop offer for a highly manipulated image.
FAQ's
Which format do you prefer? Raw or JPEG?
We prefer RAW files of course, but if all you have is a JPEG, that is fine. Just make sure it is not compressed.
Does the Photoshop post processing include retouching? Taking out power lines and vehicles and such?
No. We can do that for you, but it would be an extra charge. We will have to get your approval before working on that level of retouching.
Can you do skin retouching?
Yes… to a certain point. If you are looking for a full on glamour face, that may be extra. But we do skin smoothing and basic repair as part of the service.
Can you do HDR?
No, we do not use any HDR effects in the post processing.
Do you use third party plugins like NIK or Topaz?
No, we do everything as in Photoshop CC or CS6. You will be able to work on the files in Photoshop without needing any additional software.
Can we do large batches of files with you? Yes. Contact Steve for that work. If you have a large quantity of images, we will work with you on time/budget.
Do you guys dance the Meringue?
Steve does not, but I can really let 'er rip on Saturday nights.
Option ONE: We take your raw file, convert it and work our magic on it, save it as a highest quality JPEG and send it back to you. And we are fast.
Option TWO: We take the raw file (or clean JPEG), convert it, work our magic on it and give you back not only the JPEG, but also the Photoshop file in the layers we used to tweak the image.
The advantage to Option TWO is that you can further tweak the adjustments, as well as see exactly what was done to your image to create the powerful and exciting image.
Regarding JPEG's. For lots of reasons, JPEGS limit the color work we can do with them, but if that is what you have, we will do our best to make it the finest file you can receive. 

Preparing a print for a competition and cannot get it just right? We can help. Steve's multi-decade long career with Photoshop and all of the intricacies involved in creating a master print is now on your team. Whichever option you choose, you will know the image will print perfectly.
For busy photographers who need images prepared to perfection, but are too busy to do it themselves, this may be perfect for you.
Printers and graphic designers – let us prepare the files for perfect output, no matter what the device.
A sampling of images just completed:
OPTION ONE:
Send us your RAW file in a Dropbox, we will process it and put the finished JPEG file back in your Dropbox within 48 hours.
Option One is $10
OPTION TWO:
Send us your RAW file in a Dropbox, we will process it and put a finished JPEG file as well as the PSD in layers back into your Dropbox.
Option Two is $15
HOW TO GET IT DONE…
One: Create a Dropbox to Share with Steve: steve@prodigitalimage.com
(If you do not have a Dropbox, you can get a free account there. Follow the easy to understand directions to create and share your files on Dropbox.com)
Two: Fill out the form and pay fee for the option you have chosen.
Three: Watch for an email from Steve when your file is ready.
Let's get started…
(Please read the FAQ's and other informational panels above for all the info you need before sending the files over.)

AFTER CHECKOUT, YOU WILL BE TAKEN TO A THANKS PAGE WITH MORE INFORMATION FOR YOU.
PERFECT FOR: – Hobbyists wanting a great print – Professionals who need more time away from editing – Printers who want much better files prepared – Photographers who want to learn more from Photoshop – Competition Prints and OnLine Contests – Busy people who want the best image possible