Pro Digital Image presents Photoshop classes geared to real world applications. From image retouching and photo manipulation to perfectly printed digital files, PDI will provide the hands-on instruction that makes learning Photoshop fun and easy. Instruction, tips, tricks and techniques will be usefull for both platforms – Mac and PC.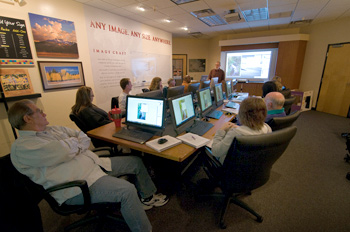 Each student will learn the program hands-on at their own workstation
The current version of Photoshop is used
The class is limited to 10 students.
Participants will learn how to calibrate their personal machines for optimal output
Tips and Tricks at every session
CD of PDI Tutorials and Practice Images for each student
It's never too late to learn the magic of Photoshop. Come see why so many photographers and artists are having so much FUN! Classes are limited to 10 students. Register early for placement.
Registration and Fee covers all five classes. Classes run consecutively from first session.
Our Cancellation Policy: Students can withdraw and get a refund up to two (2) weeks before the class starts. If withdrawal happens after that two week period, the funds will be allocated for a future class for the student, no refunds will be issued. After the two week prior to class period, the student will be allowed to enroll in another class at no additional cost. Thank you for your understanding.
REGISTRATION FOR ALL CLASSES – CLICK HERE.
---
Photoshop Class Overview
Price: $399.00
This class meets from 7PM – 10PM, once a week for five weeks.
Week One: The Digital File – Understanding Levels – Understanding Curves – The Eyedroppers of Levels – Color Correction Technique – How Big Is A Pixel? – Understanding – Resolution – Sizing Images – File Formats
Week Two: Selections – Selection Overview – Selection Techniques – Quick Masks – Paint A Selection with Quick Mask – Put A Gradient in a Selection – Subtract From Your Selection – Put a Fancy Edge on Your Image
Week Three: File Prepping Techniques – Photoshop Brushes – Fun With The History Brush – Dust & Scratches Filter – Understanding The Un-Sharp Mask – De-Fogging The Image – Smart Sharpen – Eyedroppers of Hue & Saturation – Color to Black & White – Image Adjustment Sequence
Week Four: Layers – Understanding layers – Adjustment Layers – Image Adjustment Sequence-Layers – Layer Masks – Great Soft Focus Technique – Importing Clouds – Make Your Own Self Promotional Piece
Week Five Retouching – Using The Clone Stamp Tool – Retouching Faces – Clone Tool – Add A Selection – Precise Cloning Technique – Retouch Faces With Liquify – Make Someone Look 10 Pounds Lighter – Great Sharpening Technique – Combining Images – Layer Mask Tips
Advanced Class
Price: $399.00
This class meets from 7-10 PM, once a week for five weeks.
If you liked the techniques you learned in our PhotoShop class, you will love the new techniques we have put together for our advanced class. Some of the topics covered:
1. Digital Camera Techniques
2. Working with Raw Camera Files
3. Developing a Workflow
4. Actions and Batch Processing
5. Advanced Layer Masking Techniques
6. Sharpening Techniques
7. Advanced History Bruch Techniques
8. Selection Techniques
9. Color Management and Soft Proofing
10. Gradient Techniques[/one_half]